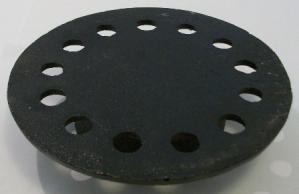 cast iron cover only for 9x9 bell trap
$21.80
21.80
cover only for a 9x9 cast iron bell trap, cover is 6 5/8" outside diameter and the inner ring is 3 3/4" outside diameter
SKU 44-119
More Details
cover only for a 9x9 cast iron bell trap, cover is 6 5/8" outside diameter and the inner ring is 3 3/4" outside diameter
Reviews
Featured positive reviews:
A perfect replacement.
07/20/2016
Our home was built in 1959-1960. All three of our original cast iron bell trap covers had rusted into useless pieces of broken cast iron.

After searching at both of the "big box" hardware stores that cater to the "do it yourself-ers", as well as an inquiry at our local professional plumber supply store, I was left under the impression that replacement covers for my drains no longer existed.

Until I found these. Sure they are made in China (boo... hiss...), but they are relatively cheap and fit perfectly.

Keith was very helpful on the phone and actually measured one that he had in his hand so that I could compare to my originals. This allowed me to ascertain these were the item for which I had been searching.

They were shipped quickly.

I would recommend buying from Keith's Specialty.
A good product, a fair price, courteous customer service, and fast shipping.
Write a review