And why does it shut off my furnace?
Written April 25, 2011, updated March 9, 2015, moved to WordPress Nov 21, 2019
What is a limit switch and why does it shut off my furnace?
Trane SWT 01635 thermal limit switch,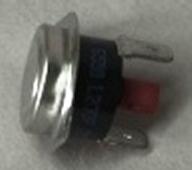 The limit switch is a small, silver bi-metal disc about the size of a dime or quarter which turns off the furnace if the temperature inside the furnace gets too hot (see another example) It is a safety device and should not be disabled or bypassed. Limit switches do go bad sometimes, especially if the furnace routinely overheats. However, you should try to determine why your furnace is getting too hot before you replace the switch. An overheated furnace is usually the result of inadequate air flow through the furnace or a furnace that is too large for the building. An overheated furnace is not only inefficient, it will shorten the life of the heat exchanger in the furnace.
The first thing to check is your registers. Make sure all registers are open and not blocked by furniture or other items. Be sure the filter in the furnace is clean. If you have recently added air-conditioning to your system, it may be possible to increase the blower motor speed. Get a furnace technician to do this if you are unsure how to safely change the speed.
If you have tried all of the above and replaced the limit switch but the furnace still overheats, the size of your ductwork or furnace is suspect. Do you have at least as much cold return air coming back to the furnace as there is warm air going to the home? If not, add more cold air runs or increase the size of existing runs. You may also need more warm air runs to get the heat away from the furnace. The main trunk or ductwork may be too small to handle the needed air flow. Call a trusted HVAC technician to do a heat loss and/or heat gain assessment for your house to see if the ductwork and furnace are properly sized.
More information can be obtained at the links below:
More about high limit switches at furnacecompare.com
Interesting forum entry regarding limit switch on DoItYourself.com