Galvanized Pipe and Nipples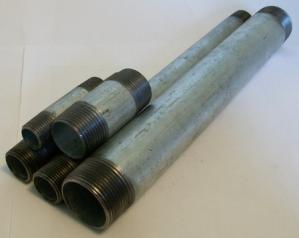 Galvanized steel may be used for stair rails, coat hanger closet rods, animal pens, gates, antenna poles, etc. It can be used for water, but will eventually corrode.
Note: When you press 'Add to Cart', one of the sizes selected is added to your shopping cart. You can then change the number of feet or quantity from the shopping cart. Press 'RECALCULATE' after changing the quantity. If ordering more than one cut piece, please put the total feet in the quantity box and list the individual lengths in the ordering instructions box in the shopping cart. Please enter one cut charge per piece and two threading charges per piece.
Notes:
Yes, the very popular 1/2" and 3/4" sizes usually cost less than even smaller diameters. This is because there are economic and production factors involved that make more difference than raw material and weight.
Before final assembly, the installer must remove the coupler and apply an appropriate joint compound.
Nipples are short lengths of pipe which have NPT threads on both ends (mipt x mipt) that fit any female iron-pipe-size threaded fitting of the same diameter.