Water Pressure Tanks
Well-x-trol and Flex-Lite pressure tanks.
Here you will find water pressure tanks, cold water storage tanks, tank tees, brackets, pump protectors and other accessories.
---
Let's discuss 'Free Shipping'
We believe our customers are smart enough to not be fooled by 'free shipping' offers. We charge what it cost to ship this item to you. We do not raise the prices to cover shiping costs and then claim we ship it for free.
If you live in the west coast, you may want to buy it at some place that offers free shipping. We can't ship to those area for under $40.00, and we don't expect those who live close to us to pay extra for the product so those in the west cost can get free shipping.
If you live in PA, OH, VA, WV, or close to Pittsburgh, try putting this item in the shopping cart, plug in your ZIP code and check out the total price. Then compare this total cost to those who offer the same product with 'free shipping'.
We believe are customers are too smart to get fooled by 'free shipping'.
---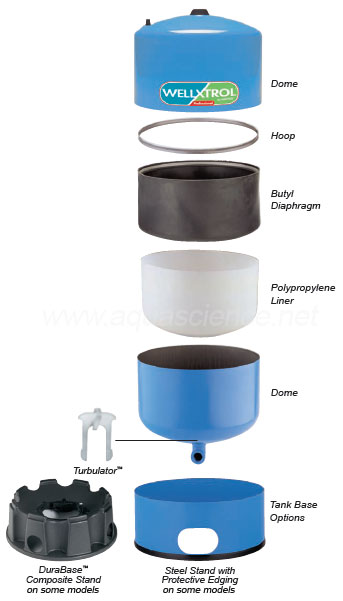 For more helpful information on Pressure Tanks please see our blog, or visit our You Tube video page. Go to the bottom of this page for common tank specs.

Amtrol Well-x-trol (WX-) and Flexcon Industries Flex-Lite (FL-) tanks carry a full seven-year warranty against leaking or loss of air.

We have sold Well-x-trol tanks since 1976 and we highly recommend them.
Well-x-trol tanks have a threaded stainless steel connection. Flex-Lite tanks have a threaded rigid pvc connection.
specifications from manufacturer
model
internal
volume
(gal)
dimensions
draw down across pressure range
(usable gallons)
diameter
height
connection
20-40 psi
30-50 psi
40-60 psi
WX-102
4.4
11.00"
15.00"
¾" mipt
1.6
1.4
1.2
WX-103
8.6
11.00"
24.75"
¾" mipt
3.2
2.7
2.3
WX-200 PS
14.0
15.38"
length 20.88"
1" mipt
5.2
4.3
3.8
WX-201
14.0
15.38"
23.88"
1" fipt
5.2
4.3
3.8
WX-202 UG
20.0
15.38"
30.00"
1" fipt
5.2
4.3
3.8
WX-202
20.0
15.38"
31.63"
1" fipt
7.4
6.2
5.4
FL-7
22.0
16.50"
33.10"
1" mipt
8.0
7.0
6.5
WX-202XL
26.0
15.38"
38.75"
1" fipt
10.5
8.8
7.6
WX-203
32.0
15.38"
46.50"
1" fipt
11.5
10.8
9.5
FL-12
35.0
16.50"
48.90"
1" mipt
14.1
11.9
10.3
WX-250
44.0
22.00"
36.00"
1¼" fipt
16.3
13.6
11.9
mipt = male iron pipe size threads; fipt = female iron pipe size threads
The WX-202, WX-202XL and WX-203 are the most common residential tanks.
For multi-family dwellings, farms, or other higher water uses, the WX-250 is more appropriate.
Tanks have a Schrader valve (same as standard vehicle tubes/tires) on top to allow the air pressure to be adjusted.
Tank pressure when empty should be set two or three psi lower than the pump control cut-in pressure.
Pressure is pre-charged at the factory to 38 psi.
Definitions
Gal. - U.S. gallons volumetric capacity
GPM- Gallons per minute - flow capacity
PSI - Pounds per square inch
You may be interested in our Best Sellers: