Well-x-trol and Flex-Lite Pressure Tanks.
Here you will find water pressure tanks, cold water storage tanks, tank tees, brackets, pump protectors and other accessories.
---
---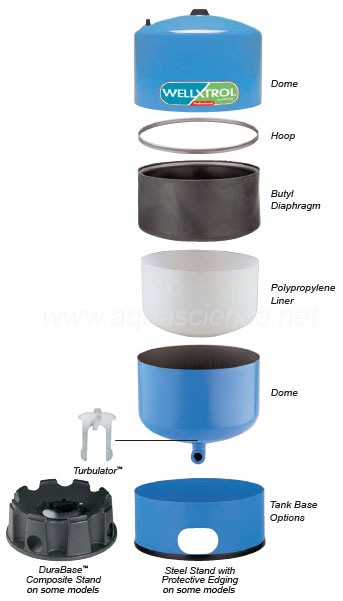 For more helpful information please see our blog, or visit our YouTube video page. Go to the bottom of this page for common tank specs.
Amtrol Well-x-trol (WX-) tanks are warranted for seven years and Flexcon Industries Flex-Lite (FL-) tanks are warranted for five years against leaking or loss of air.

We have sold Well-x-trol tanks since 1976 and we highly recommend them.
Well-x-trol tanks have a threaded stainless steel connection. Flex-Lite tanks have a threaded rigid PVC connection.
Click on the
image below
to open new window with a PDF file showing the chart of various tank sizes: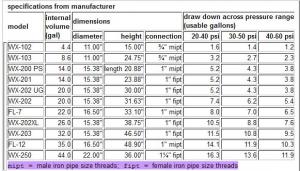 Definitions
Gal. - U.S. gallons volumetric capacity
Gallons per minute - flow capacity
PSI - Pounds per square inch