Order Processing:
We process orders Mon-Fri. between 8 a.m. and 4 p.m. We do not process orders Sat and Sun.

Also we do not process orders on holidays (click to see schedule). To see UPS delivery holiday schedule click here
We make every attempt to ship orders received Mon-Fri by 3 p.m. (Eastern time) the same day. Orders received after 3 p.m. will be processed and shipped the next business day.

If we are not able to process your order due to stock or other issues, we will try to call and/or email you.

If we shipped the package from our store, our UPS system will email a tracking number to you after 6 p.m. that evening. If we ship it from one of our suppliers, we email the tracking number when we get it-often the next day.
Keep in mind, UPS does not count Saturday and Sunday as normal delivery days, which means an order received before 3 p.m. on Friday with the UPS Next day selected will be delivered on Monday.
---
Estimated Shipping:
There are some items we sell that our shopping cart can not accurately determine shipping costs. These are large items that require they ship via freight, or items we won't know the shipping costs until we package it.

For most of these items our shopping cart estimates the shipping costs so you do not have to call your order in to us.
If the actual shipping charges are less than the estimated, we adjust the shipping charges down to charge you only the actual costs.
If the actual shipping charges are more than the estimated charges, we contact you with the actual costs and ask for approval. We will not ship until you approve the additional charges.
The shopping cart also has a option to request a quote by selecting that option under "Payment Type".
---
UPS

Our preferred method of shipping is UPS ground delivery. We will email you a tracking number at the end of the day your package ships.

Normal UPS ground delivery times are shown below. Remember, UPS does not ship to an PO Box address.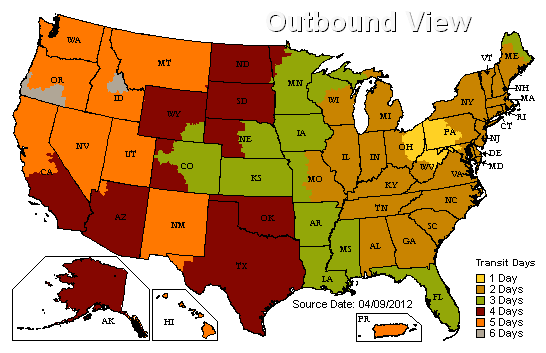 ---
US Priority Mail.

We ship a limited set of products via US Priority mail Service (USPS).
We do this to reduce your shipping costs on small, inexpensive items. However, your shipping address must receive US mail. If you do not get mail delivery to your shipping address, then select another shipping option.
US Postal delivery times for Priority Mail is 2-3 postal delivery days (Mon-Sat).

USPS is only available for certain products. You can request your order to be shipped via USPS by specifying so in the Comments box on the CHECKOUT page. If you request USPS shipping, we will reduce the shipping charges to the actual US postal charges. If it is more or we cannot ship USPS, we will contact you.
Tracking information is not available for all orders shipped via USPS.
---
Freight - LTL ( Less than a TruckLoad )



If something in your cart requires it to be shipped via freight, currently we only estimate the cost of shipping.
If you place an order and select an estimated freight option, we will determine the actual cost of shipping and if the cost is less or equal to the estimate, we will process your order.
We use email and phone to contact you, so please make sure you provide valid contact information.
If the actual cost is greater than the estimate, we will contact you to get your approval before we process your order.

Please note, freight companies charge extra for delivery to a residence address. You can save money by providing a business shipping address.
If you have a firm shipping quote, you can also add 'Shipping Dollars" by adding sku SD-100 to the cart to make up the difference between the estimated and the actual quoted cost.
---
Request a Shipping Quote

You may request a quote by selecting that option under Select Payment Type on the shopping cart page. We will send you an exact freight shipping cost.