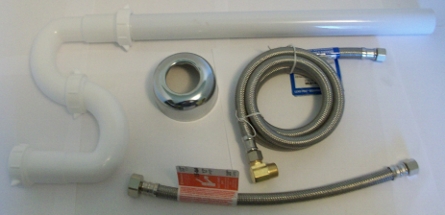 Supply Lines, Traps, Chrome Escutcheons
A variety of faucet and toilet supply lines in flexible stainless steel, chrome plated brass and PEX plastic.
Chrome and plastic traps and other tubular items for bath, kitchen and laundry drains. Tubular products are measured by the OD, outside diameter.
We recommend stainless steel supplies for ease of use and durability.
We sell more plastic traps than chrome because plastic will not rust or deteriorate. Slip joint (S/J) fittings use a nut and washer to connect to another tubular pipe. Direct connect fittings attach directly to a basket strainer.


Fixtures
Faucets, wash basins, tubs, showers, venting, toilets, supplies, traps, sinks and laundry parts for bathrooms, kitchens and laundry rooms

PVC Home
PVC pipe and fittings, Schedule 40 and Schedule 80, cleaner/glue, P-traps, S-traps, tubing and ball valves