S&D - Rubber Fittings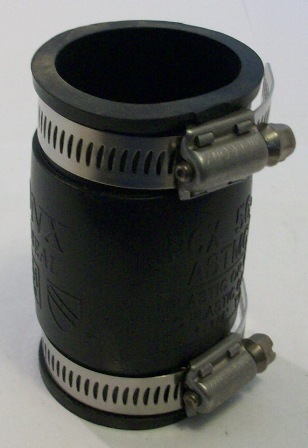 Rubber Fittings
Here you will find rubber fittings which may be Fernco, Indiana Seal, Pipeconx or Mission brands. Use these fittings to connect S&D, SDR-35, SCH40, copper, steel and clay tile. You will also find dollar plugs and aluminum roof flashings with rubber boots.

Couplings, tees and caps are soft rubber fittings with stainless steel hose clamps. Couplings, tees, caps, plugs and stoppers on this page are used for DWV (drain/waste/vent) applications only. Do NOT use on pressurized lines.
Dollar plugs have a steel wing nut which when tightened expands a rubber gasket to seal drain (DWV) pipes. Sizes are ips (nominal inside diameter of pipe). Do not use on pressurized lines.