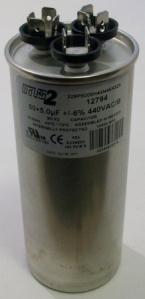 60/5 MFD 440V dual capacitor, round
$12.52
12.52
SKU 69-31A
More Details
60/5 MFD 440V Dual Capacitor, Round
Reviews
Featured positive reviews:
Dual Capacitor
05/01/2017
Item worked, I thought the shipping cost for the weight of the item was over priced.
Our response
We agree that UPS ground shipping is expensive for some items to some locations. When you encounter this, please call us and we can ship many parts via US Priority mail for less money. US postal does not have the tracking information that UPS has, but if you don't mind that, please ask. Had this customer called us we would have been pleased to ship via US Priority mail. Please note however, our mail pick up is around Noon, our last UPS pick is around 4PM, so if you call after noon, and request postal shipment, it may delay it going out by one day.
Write a review