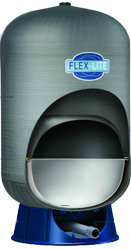 FL-7 fiberglass pressure tank 22gaL
$290.00
290.00
FL-7 Flex-Lite fiberglass pressure tank, 22 gallon, 16.5" diameter x 33.1" high, 1" pvc male threaded connection, pre-charged to 38psi, 5 year warranty
SKU 34-267
More Details
FL-7 Flex-Lite fiberglass pressure tank, 22 gallon, 16.5" diameter x 33.1" high, 1" pvc male threaded connection, pre-charged to 38psi, 5 year warranty
Reviews
Featured positive reviews:
Very Satisfied with this Company!
06/22/2021
Product was as described, well packed, delivered sooner than expected and was easy to install with great instructions. Pricing was fair and shipping options were great and received earlier than expected. Very, very happy with this company! Will be looking to them for future issues I have.
The Best
04/27/2020
I have been replacing other tanks (mainly Well Mate) with Flex-Lites for years. I have never replaced a Flex-Lite, though. As soon as I saw the internal design differences between the two I understood why Well Mates fail and Flex-Lites last. Well Mate has an air bladder (essentially an air bag) in the middle of the tank, while the Flex-Lite has a heavy-duty rubber diaphragm dividing the air and water sections. The Flex-Lite is designed exactly as I would have if I wanted it to last as long as possible, while the Well Mate is designed to be produced as cheaply as possible.
Unfortunately, since the well services buy most of them, and they like repeat customers, they all buy the Well Mates. As a result the local distributor has stopped carrying Flex-Lites b/c they don't sell enough of them, despite them being a far superior product.
Fortunately, KeithSpecialty still carries them for a reasonable price, with fast shipping, and excellent customer service.
pressure tank
03/20/2016
Great product and super fast shipping
Write a review