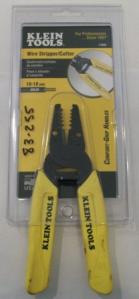 Klein 11045 wire stripper and cutter
$21.00
21.00
Klein 11045 multipurpose pliers used to remove insulation, cut wire and bend loops for 10-18 AWG
SKU 83-255
More Details
Klein 11045 11045 multipurpose pliers used to remove insulation, cut wire and bend loops for 10-18 AWG
Reviews
Featured positive reviews:
High quality wire stripper
12/11/2019
For years I struggled with wire strippers that did not work well. When I took on the job of wiring my garage, I decided to buy new ones. Keith's didn't have a large selection, but if the one they have works well, that is not a problem. These worked well, I don't pinch my fingers like my old ones did, they actually strip the wires, unlike my old ones. High quality, reasonable price, and durable. What else does one need? Now, if they came with a locator so I could find them easier. that would be six stars!
Cool cutters
04/14/2020
These are nice wire strippers. I like them and they do work fine, but I have on complainant - if you put your pinky in them while closing them, it hurts!
Write a review