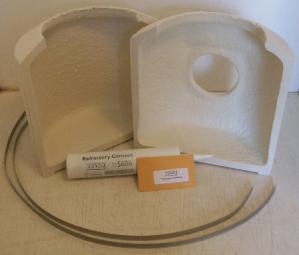 Olsen, Airco Furnace 9200C chamber kit, Lynn 1158
$130.95
130.95
Olsen and Airco Furnaces combustion chamber kit for all models with a 9200C, 28562 or 8823B1 firepot, including models BCL-120, BCL-120S, BCL-120ST, BCL-145, BCL-145S, BCL-145ST, BFL-120, BFL-120T, BFL-145, BFL-145T, HTL-100C, and Oneida models L-HO-14D5AF and L-HO-145DA5, includes everything you need and instructions, Lynn 1158
SKU LN-177
More Details
Olsen and Airco Furnaces combustion chamber kit for all models with a 9200C, 28562 or 8823B1 firepot, including models BCL-120, BCL-120S, BCL-120ST, BCL-145, BCL-145S, BCL-145ST, BFL-120, BFL-120T, BFL-145, BFL-145T, HTL-100C, and Oneida models L-HO-14D5AF and L-HO-145DA5, includes everything you need and instructions, Lynn 1158
---
This part replaces those listed below:
| manufacturer | part number(s) |
| --- | --- |
| Lynn | 1158 |
Reviews
Featured positive reviews:
Handy girl did herself!
11/28/2016
I do construction but don't do too much with my furnace besides regular maintenance (like nozzle change, ect..) Anyways the instructions were simple and to the point. Had hard time squeezing last piece in without smearing caulk stuff all over furnace. So I just used my finger to get it on it after both pieces in and ready to put together and even went over a little after bands were on. I was so proud to do this by myself with no clue going in. So glad you guys make these! Very fast shipping even on slowest one. Thank you for the chance to save sooo much money on my furnace.
1158 Chamber Kit
10/08/2016
This kit had the same specs as my 1962 Johnson (modernaire) fuel oil furnace that I still use. I do all of my own maintenance but I've never replaced a combustion chamber until now. The installation is pretty straight forward. It did take me about 2.5 hours start to finish (but that included removing the burner, cleaning the heat exchange, re-assembly and firing (curing) the chamber. The kit shipped to me within 3 days! I'm a happy customer.
Chamber kit
07/31/2014
Was received within a few day's.This was fairly easy to install.Hardest part was securing the band's together with the limited space in which you have to work.All in all it is a good product I would recommend.
Combustion chamber
09/15/2015
This company had super speedy shipping excellent communication and the product was just as we needed. Will definitely recommend this business to others. Great service and products.
combustion chamber
04/10/2014
part fit and assembly with installation was easy.very fair price and very quick delivery
Excellent
12/24/2018
Fast shipping. Product an exact fit and worked perfectly. Great price
Burn Chamber
01/12/2018
Arrived quickly. Fit perfectly. Saved having to buy a new furnace.
Everything was Great
01/05/2023
Everything was as I needed. Easy to install. Good instructions.
chamber kit
11/17/2016
works very nice. not to hard to put in. Thanks
Write a review