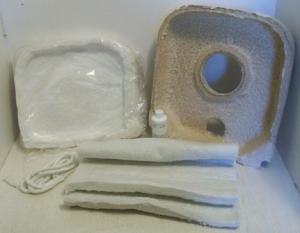 Weil-McLain 66, 68, 68V chamber kit, Lynn 1060
$124.40
124.40
Weil McLain 66, 68 and 68V Series combustion chamber kit for models 366, 466, 566, 666, 766, 268, 368, 468, 568, 668, 768, 868 and 968, includes everything you need and instructions, Lynn 1060
SKU LN-286
More Details
Weil McLain 66, 68 and 68V Series combustion chamber kit for models 366, 466, 566, 666, 766, 268, 368, 468, 568, 668, 768, 868 and 968, includes everything you need and instructions, Lynn 1060
---
This part replaces those listed below:
| manufacturer | part number(s) |
| --- | --- |
| Lynn | 1060 |
Reviews
Featured positive reviews:
Lynn 1060
12/09/2014
The combustion chamber kit was easy to install. The key is to follow the instructions and make sure you thoroughly clean the surfaces that will receive the material. An old shop vacuum, a wire brush and a dust mask does the job well.
Fast shipping and perfect fit.
09/22/2014
This was a do-it-yourself project that saved myself around $800. It was pretty easy. No real special tools required. Just follow the instructions and watch a Youtube video. You just need a good vacuum cleaner.

Keith Specialty
10/01/2014
Good description of product. Images very helpful to see exactly what was being purchased. Kept me in the loop via email on order status. Fast shipping.
Fast and Efficient
10/12/2016
We ordered the parts, they arrived exactly when promised, and our furnace runs so quietly now that I have to open the cellar door to hear it!
Replace Chamber
01/28/2016
Quick deliver, easy and clear instruction of how to replace the oil furnace chamber. The kit came with everything you need.
Combustion camber kit
02/02/2016
Kit was exactly as advertised. On time, good price. Would recommend Kieth to family and friends.
Great product
07/18/2015
fast shipping and this product fit like a glove... great service......
Chamber kit
12/04/2017
Excellent product instructions and web site. Highly recommended.
Write a review