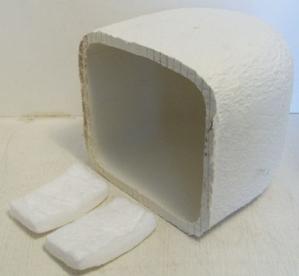 Quickie 100 combustion chamber, Lynn 1001
$59.72
59.72
Quickie 100 combustion chamber for wet-base boilers, one piece Kaowool construction, 0.75-1.25 firing rate, 10 3/4"H x 11 1/2"W x 11"L outside dimensions, 3/4" wall, pre-marked burner hole, for American Standard Arcoleader models A1-3 and A1-4, American Standard Arcoliner models W-O-351, W-O-451, S-O-153T and S-O-154T, Crane Company #14 models 14-4 and 14-5, Crane Company Sunnyday models 5W-5-3, SOU-5-3, 5W-5-4, SOU-5-4, 15-3 and 15-4, Dunkirk Radiator 13 series models 513 and 613, National Radiator 100 series models A103, A-13-W, A104, A-14-W, OU-13-W and OU-14-W, National-US Sunray IV models 3-19S, 3-19W, 4-19S and 4-19W, Utica Ace series model ACE-300, Utica OU series model OU-300, Weil McLain 62 series models 362 and 462, instructions included, Lynn 1001
SKU LN-401
More Details
Quickie 100 combustion chamber for wet-base boilers, one piece Kaowool construction, 0.75-1.25 firing rate, 10 3/4"H x 11 1/2"W x 11"L outside dimensions, 3/4" wall, pre-marked burner hole, for American Standard Arcoleader models A1-3 and A1-4, American Standard Arcoliner models W-O-351, W-O-451, S-O-153T and S-O-154T, Crane Company #14 models 14-4 and 14-5, Crane Company Sunnyday models 5W-5-3, SOU-5-3, 5W-5-4, SOU-5-4, 15-3 and 15-4, Dunkirk Radiator 13 series models 513 and 613, National Radiator 100 series models A103, A-13-W, A104, A-14-W, OU-13-W and OU-14-W, National-US Sunray IV models 3-19S, 3-19W, 4-19S and 4-19W, Utica Ace series model ACE-300, Utica OU series model OU-300, Weil McLain 62 series models 362 and 462, instructions included, Lynn 1001
---
This part replaces those listed below:
| manufacturer | part number(s) |
| --- | --- |
| Lynn | 1001 |
Reviews
Featured positive reviews:
Perfect fix.
12/16/2019
Purchased this firebox and it was just what the old furnace needed. The burner side of the old firebox had collapsed and it time for a new one. Take your time to measure twice and cut once and you will be back up and running. Worked very well for my application.
Very Pleased
11/19/2014
We were told by the company that has serviced our American Standard Boiler for the last 30+ years that with the collapsed firebox we needed to replace the entire boiler at a cost of $15k. After doing much research, we replaced the firebox, firebricks and cleaned all debris from the interior of the combustion chamber and heat exchanger of our boiler which had not been cleaned for years. It seems the only service performed for many years was replacement of the fire nozzle. Now our clean boiler works better than it has in many years and we are extremely happy with the Lynn 1001 combustion chamber. The installation was easy and now the home is more comfortable and the boiler runs much less often to keep everyone warm.
Nice
04/09/2016
The parts were as described fit nicely. The staff was more than helpful. Very knowledgeable. I would definitely recommend them to my friends, the experience was refreshing for a change definitely worth every penny. Thanks
Write a review