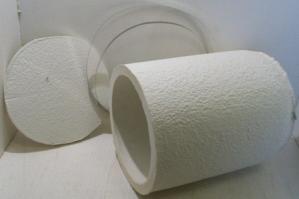 Time Saver #9 combustion chamber, Lynn 1009
$63.04
63.04
Timesaver #9 combustion chamber for furnaces and dry-base boilers, one piece Kaowool construction, 0.65-0.85 firing rate, 14 1/4"H x 10 1/2"D outside dimensions, 9" inside diameter, must cut burner hole according to the job, can be cut in half vertically for installation, for American Standard Arcoliner model 153, includes steel bands and instructions, Lynn 1009
SKU LN-429
More Details
Timesaver #9 combustion chamber for furnaces and dry-base boilers, one piece Kaowool construction, 0.65-0.85 firing rate, 14 1/4"H x 10 1/2"D outside dimensions, 9" inside diameter, must cut burner hole according to the job, can be cut in half vertically for installation, for American Standard Arcoliner model 153, includes steel bands and instructions, Lynn 1009
---
This part replaces those listed below:
| manufacturer | part number(s) |
| --- | --- |
| Lynn | 1009 |
Reviews
Featured positive reviews:
Easy and great
12/04/2019
Rebuilt my combustion chamber in my furnace using this . I think that this was better than the orginal . Really easy and a real time saver . This was the key to my whole project . Great shipping and packing . Thanks !
Combustion Chamber
09/28/2021
Mine was ruined in the Ida flood,could not find one so I looked for a similar one and found this. Was able to make it work and saved replacing the furnace. Fast service and exactly what I needed!
Lynn 1009 Chamber
01/09/2016
Excellent product, perfect fit, easy to install and very detailed instructions. Reasonable price and fast shipping.
Service
05/12/2014
Great service would recommend using company again
Featured negative reviews:
To late now
01/06/2017
The part ( combustion chamber ) was great ! It worked out well. Good thing I didn't rely on Keith Specialty getting back to me answering the few questions I sent them about the product. If a company is going to have a ' contact Us '
tab they should have someone check it everyday. My heater is repaired but my questions have yet to be responded to. Great parts, fast delivery, good price but due to lack of response to questions I would have to give 3 stars instead of 5.
Our response
Unfortunately due to technicial difficulties, we never received the email from the customer. We strive to respond in a timely manner to all questions we receive. Our company prides itself on friendly, helpful customer service and will continue to do so.
Write a review