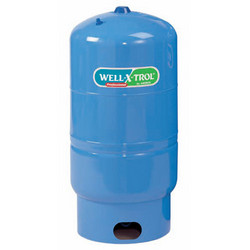 WX-202 Well-x-trol pressure tank
$291.00
291.00
SKU 34-210
More Details
Amtrol WX-202
Well-X-Trol is an Well Water System Pressure Tank (Stand Model) with 20 gallons rated volume, 15.38" diameter, 31.63" height and 1" female threaded system connection. Precharge Pressure for the WX-202 Well Water System Pressure Tank is 38 PSIG. This tank measures 15 5/8" diameter by 31 5/8 high and weighs 33 pounds.
Shipping is determined by the size of the box and varies with location. UPS ground service runs from $20 and up.
Heavy duty butyl diaphragm of the Amtrol WX-202 well pressure tank is the thickest in the industry and features seamless construction for uniform strength and flexibility. It conforms exactly to the shell configuration without stretching, creasing, or forming bubbles or corners that could trap water or sediment.
Welded air valve is permanently attached rather than mechanically threaded to prevent loss of air pressure and to minimize stress on the well's pump system. It also carries a tamper-evident warning label. Exclusive welding process eliminates interior rough spots and sharp edges that can damage the diaphragm and liner.
Each finished tank is pressure tested for safety and pre-pressurized to the most common pump cut-in pressure; Exterior appliance-like finish looks attractive while protecting the tank from the elements.
---
NEW The Industry's Longest Warranty: 7 Years

Projection Welded Air Valve
Eliminates threaded valve leak paths.
Tamper-evident warning label for added safety.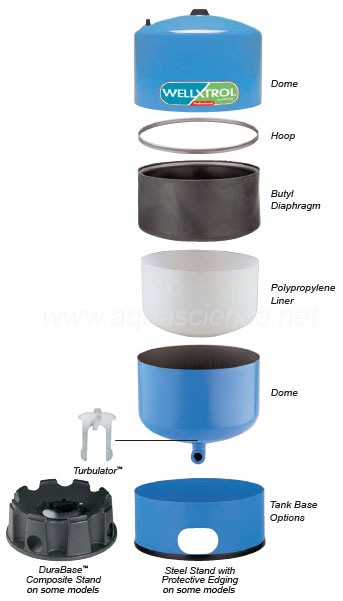 NEW High Strength Steel (HSS) Construction
Deep-drawn dome for double the strength of rolled steel.
Multi-dome construction for internal bracing.
Positive Hoop Ring and Groove Seal
Secures diaphragm and liner for added strength and reliability.
Exclusive welding process eliminates interior rough spots and sharp edges that can damage the diaphragm and liner.
Seamless Heavy Duty Butyl Diaphragm
The Industry's thickest diaphragm for extra strength and flexibility.
Conforms exactly to the shell without stretching, creasing or forming bubbles that could trap water or sediment.
Meets stringent FDA requirements for potable water.
Polypropylene Tank Liner
Provides 100% corrosion resistant, non-metallic water reservoir.
NSF® International Standard 61 listed for clean, safe water storage with no taste or odor.
Stainless Steel System Connection
Withstands aggressive water conditions.
Reviews
Featured positive reviews:
Homeowner
05/15/2014
Great price on items purchased. Fast transaction and delivery. Great service and all parts were correct. I will purchase from again and recommend to others. 5 Stars!
homeowner
05/15/2014
Best price,fast delivery. Will buy from again and recommend to others
Write a review