Oil Burner Nozzles by Delavan

We stock Delavan brand nozzles. Delavan oil nozzles may be substituted for Hago, Sid Harvey, and Monarch brands. To see a chart for cross reference to Delavan nozzles check here.

On oil nozzles, the first number is gallons of oil per hour at 100psi.
The second number is the apex angle (30° to 90° arc) of the oil spray cone.
The letters designate the fill of the spray cone: A or H = hollow, B or ES = solid, SS = semi-solid, W = multipurpose.
We also stock nozzle valves, adapters and anti-drip parts.
All the nozzles and accessories are listed on this page. To narrow your search, click on the links below.
To get more information on oil nozzles, view this document from Delavan.

Nozzle Accessories
nozzle valves, adapters, adapter traps, filters, changer wrenches and multi-purpose gauges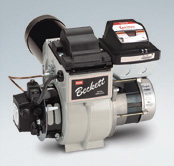 Oil Heat-Home
Oil burner and heating systems replacement parts: nozzles, oil pumps, motors, transformers and electrodes