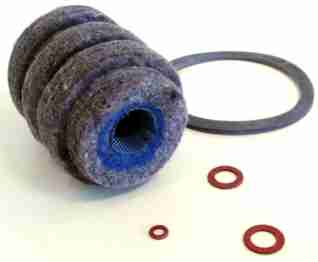 oil cartridge for General 1A-25
filter; replaces General 1A-30, Unifilter 77, Sid Harvey XF-25, Sears 8055, Eddington or Westwood S-254, Autoflo F-300 & Federal A77; includes gaskets, 10 micron filter, wool felt
65-120
filter; replaces General 1A-30, Unifilter 77, Sid Harvey XF-25, Sears 8055, Eddington or Westwood S-254, Autoflo F-300 & Federal A77; includes gaskets, 10 micron filter, wool felt
Write a review
|
Read all reviews
Featured positive reviews:
Oil Furnace Parts
01/21/2016
I am very pleased with the products offered through this site. Local heating companies do not offer oil furnace parts and having a furnace go out in the middle of winter is not fun. The prices on the filters and nozzles are reasonable and I wouldn't hesitate to order more.
Check
01/15/2019
Works great. No more after drip. Seal up those brass line threads too. Hundred psi oil can get out anywhere. U only want oil coming from nose of nozzle. Believe me. Been and done that and it's a real mess. Not to mention a possible "ka-boom"!
Great Price
09/05/2014
These have always done an excellent job of keeping trash and sludge out of pump and nozzle even when several seasons pass with missed changes. Great price, fast shipping, delivered two days after order!
Does the job
10/05/2014
My refill cartridge called for a 1a-30, but this is the correct replacement. At first it looked like it was to tall. It went together just fine.
Oil burner parts
12/05/2017
All parts were exactly what I needed and got them quickly.
Will definitely order more parts from you when I need them.
Oil Filter Cartridge
02/11/2019
Oil Filter was a perfect match and I had installed in minutes. Will definitely order again.
nozzles and filters
11/07/2014
products arrived exactly as ordered and on time, pleasure doing buisness with you!
oil filter cartridge
09/27/2016
priced right and fast shipping will purchase from you again
Right part
12/13/2015
I purchased wrong part. Kept this one for future use.
Furnace parts
09/23/2016
Nee to change these every Fall season folks
Oil cartridge
10/08/2015
Excellent cartridge, reasonable price
good product
11/23/2014
Standard fittings. Easy to install.
Excellent
09/19/2016
Great prices and delivery time.
oil filter
01/02/2017
fit perfectly