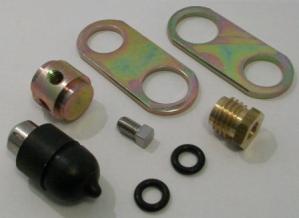 Boshart yard hydrant repair kit
$19.95
19.95
Boshart 13YH-REPKIT yard hydrant repair kit for YH07 models; includes draw straps, 1" pivot connector, set screw,3/4" brass packing nut, two O-rings and bronze & rubber plunger
SKU 38-450
More Details
Boshart 13YH-REPKIT yard hydrant repair kit for YH07 models; includes draw straps, 1" pivot connector, set screw,3/4" brass packing nut, two O-rings and bronze & rubber plunger
Reviews
Featured positive reviews:
Boshart repair parts
12/02/2015
This repair kit is specific to a Boshart hydrant I installed about 7 years ago. No problems with hydrant, I've just been thinking I should have a repair kit on hand if it should break mid winter, otherwise its 100' of hose to get water to the horses. Kit was just as described, and delivered promptly. No problems at all.
Excellent, will return
06/21/2021
5 Stars - I cannot click on the stars for the review - but would give 5 and more.
Great customer service, no issues. Parts exactly what I needed. Will order again in the future.
Great!
11/16/2023
Fast shipping, friendly customer service, and great prices.
Hydrant Parts
06/05/2021
Very prompt and efficient service
Write a review