Oil Burner Parts

Oil Burner Parts
We carry a variety of oil burner parts to keep your oil furnace or boiler working top notch.
For more helpful information please check out our oil furnace Blog. This contains information such as, changing a nozzle, nozzle filters, noisy oil pumps, oil pump strainers & electrode adjustment.
This page contains cad cells, oil lines, check valves, burner heads, gaskets, oil burner motors, barometric controls and stack controls.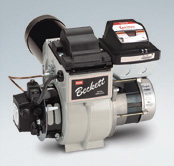 Oil Heat-Home
Oil burner and heating systems replacement parts: nozzles, oil pumps, motors, transformers and electrodes